Braille plates, panels and signs are increasingly common in the Netherlands. Braille letters and characters can be felt as raised dots on a board and can be read with the fingertips. This helps blind and partially sighted people to obtain information.
Fill in the form below and we will contact you as soon as possible.
Braille provides accessibility
There are guidelines for Braille in the Netherlands, but these are not legal regulations. Nor is having Braille plates in your building a legal requirement. Yet there are many companies that choose to use Braille plates to make their buildings and grounds, etc. more accessible to everyone.
One of Etsprit's specialisations is manufacturing these Braille plates. Etsprit uses stainless steel, which means the Braille plates are resistant to both wear and vandalism! Chemical etching ensures the Braille dots and/or relief feel pleasant. Etsprit can advise you on the design and use of Braille plates and offers all kinds of Braille plates, ranging from floor plans with legends to simple nameplates. All plates are produced with the highest level of detail.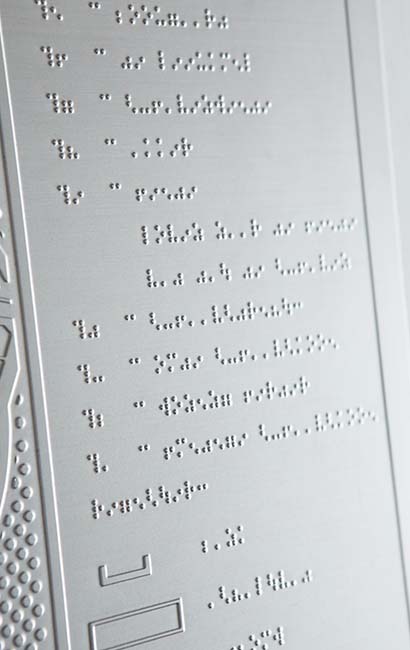 A selection from our work
Here, you will find some examples of braille plates etched by Etsprit
Would you like to have your Braille plates made at Etsprit?
At Etsprit, high quality, expertise, a personal approach and appreciation for technology are highly regarded. High quality, expertise, a personal approach and appreciation for technology are deemed of paramount importance at Etsprit. You can expect the highest quality of products etched by Etsprit. In addition, Etsprit accepts all types of orders, ranging from very small to extremely large! Etsprit further guarantees fast delivery in accordance with the agreements made and offers an excellent price/quality ratio! Etsprit have been the experts in chemical etching for over 21 years.
Request a quote now!